Panther Ausf.G early Version (Tamiya)

By Esko Koskinen (Finland)
This excellent Panther kit has been available for some years. Quality is usual Tamiya: sharp, fits together well and no major mistakes. Parts are molded in sand brown plastic, except tracks taht are molded in gray vinyl material, and spare tracks from gray plastic. As extra, Tamiya offers separate track links, photo-etched stainless steel engine meshes and lathe turned brass ammunition. However, I used only the separate tracks. What I missed in this kit was turret cupola periscopes. Why oh why it it SO difficult to make them for Panzer kits?
Panther Ausf. G, SS Panzerregiment 1 "LSSAH", Paris, june 1944
SS Panzer Regiment 1 was moving from it's training and refitting area in Belgium towards Invasionfront in Normandy in June 1944. On the road LSSAH marched through Paris, and a Kriegsberichter took a famous set of photos of one particular Panther tank and its crew moving past Arc de Triomphe and having a break nearby, reading newspapers and chatting with local military personnel. This set can be found for example from Squadron/Signal book "SS Armor" in page 66, or from After the Battle book "Panzers in Normandy: Then and Now" pages 126 and 127.
Somehow I liked the "cloud" camouflage pattern of this tank, and decided to build a model of it.
Lower hull and tracks
The kit was built using well-known straight-from-the-box -principle. Lower hull went together well, as did the Tamiya separate track links. Of course I could have used Model Kasten or Friulmodellismo tracks, but at the moment I did not have any of them in my stocks.
Upper hull
Again, straight from the box. Engine grill mesh was the only extra I added, they are made from steel mesh, originally intended to be used as tea filter(!). Tamiya, Aber or Eduard photo-etched detail parts set could have been used, but once again, laziness took over. Tamiya set includes only engine meshes and AA MG sight. Eduard and Aber sets have more stuff in them, like tool clamps, spare track holders, and so on. Aber has also mud guard set and side Schürzen set. They are highly recommended, but need some extra skill and long "fuse".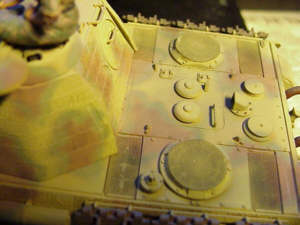 Hence the selfmade meshes made from a tea filter
Surprise surprise, straight from the box. I had an idea to use Jordi Rubio lathe turned aluminium barrel, but I could not get the white metal cast muzzle brake to stay glued in aluminium barrel. It was simply put impossible. Super glue did not work, and nor did fast and slow epoxy glue. After all, Tamiya's own, very good barrel was used. Cupola periscopes were made of plastic strip and glued isnside the cupola.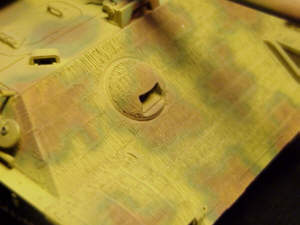 Close-up of the Zimmerit made using the pyrogravure method
Zimmerit was used during the war to prevent the enemy attaching magnetic mines to Panzers. After the war, Zimmerit is used to make Panzer modellers go insane. There are many techniques how to make Zimmerit. I prefer to use Pyrogravure, a small low-temperature soldering-iron-like tool, available from Historex Agents. To make zimmerit with it is slow and needs careful practice, but from my point of view, it's worth it. Check the photos and judge yourself.
Zimmerit pattern in this tank is typical to Panthers, small vertical lines horizontally. Sounds unclear, huh? Well, see it in the photos.

The crew of this Panther wore many different uniforms. SS Uscha, commander of the tank, had black Panzer uniform. Two other crewmen seen in the pictures had Panzerkombi overalls, from Italian camo material and from SS Eichenmuster material.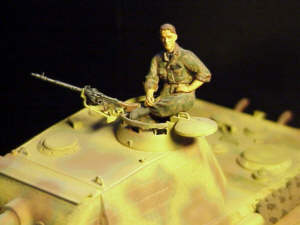 Figure of this tank is from Wolf, and he is wearing an SS Eichenmuster overall. Figure was cast in resin and is in very high quality. My original idea was to build more figures, but once again, laziness took over. The Panzerschütze is obviously scanning the sky for any Allied Jabos, AA MG is in readiness. He has hanged his earphones to the MG mount, perhaps to hear approaching Jabos better? Figure was painted using Tamiya acrylics and Testors enamels.
The whole tank was painted with Tamiya acrylics using Tamiya HG airbrush attached to Italeri/Testors compressor. Tamiya acrylics are my #1 choice when using airbrush, but when painting with normal brush I try to avoid them. Base colour of Panther is Dunkelgelb, and camo pattern was painted with Rotbraun and Olivgrün. Rusted track were painted with dark brown and finished with some metallic grey.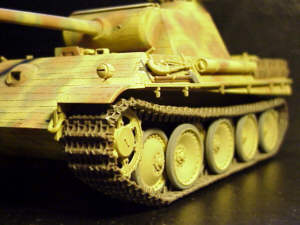 For more detailing I used pastel chalcks, drybrushing and some light airbrushing. The result was quite satisfactory, I think. We have to remember that this Panther was almost new, and just heading for battlefield,and thus had no battle damage.
Building Panthers is great fun, this was my third Panther and first one I built from this new Tamiya kit. More Panther projects are planned, including a Bergepanther and some late Panther G's. Tamiya kit is very good, but some extra is needed to make it very good. Vinyl tracks should be replaced, and engine grills added. If you need more realism, consider an Aber or Eduard photo-etched set. Jordi Rubio gunbarrel is a good investment too, especially today when the muzzle brake attachment problem has been solved. And they are cheap, too.

| | | | |
| --- | --- | --- | --- |
| Price / value | ***** | Part's fit : | ***** |
| Details: | ***** | Skill: | ***** |
© 6/2001 Esko Koskinen